Beginner's First theWord Class is for a newbie just starting to use theWord, explains the windows with the program
Beginner's First theWord Class
By David Cox
Class Objective: This page is a basic beginning point for the brand new theWord user. From here we will link to other pages/clases for you to go through and learn, and then come back here. (You must install the software before anything else. If it is not installed, then please install it.)
Identifying the Different Parts of theWord
We start our learning journey of theWord Bible Software by first studying the different parts of the program window. Basically there is a menu area at the top of the screen, and menu panes below it.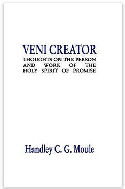 Moule Veni Creati is an old, well known work in studies in the Holy Spirit by Bishop (Anglican) H.G.C. Moule. It has 12 chapters. It is a deep treatment of the Holy Spirit. Although Moule was Anglican, his writings are well written and good.
Downloads:
theWord: Moule Veni Creati
MySword: Moule Veni Creati
ESword:Moule Veni Creati
Adobe Acrobat PDF: Moule Veni Creati
Identifying the Panes – This is a simple class to identify where we are talking about, and how to open them if they are not already open.
How to Make Module Sets – In this class, we go over what are module sets, and how to set them up so that you can see your installed Bibles and books.
Once you get these two parts of theWord down, you are ready to start moving on to "the good stuff".
 Extra: Video introduction by Paul Chapman
Here is another general overview of theWord.
Here is another good one by GodlyChristianMinistry
General use introduction.
The one below is from Dave Ranck
Another review, but from a person who has an accent. But he is more organized and logical in his presentation. This is more like a nicely done powerpoint presentation.
https://www.youtube.com/watch?v=mHb70xwoq5U&t=6s
More Articles from this Category
More Beginner Classes