Welcome to my new website!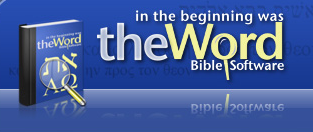 This website is set up to help TheWord (www.theword.net) users to understand, learn how to use, and master TheWord. I will be constantly adding new posts to this website with information on how to use the program. What are some of the advantages of this program? 1) Free, 2) powerful for intense detailed Bible study, 3) suited for studies in Greek and Hebrew, 4) tremendous free module library database available, 5) study methods unavailable in other free or commercial Bible software.
Notice in the right sidebar that there are categories of posts. These are arranged to help you find what you are looking for. Note that a particular lesson is double registered in the Categories, once in the area which it is dealing with, and a second time in the classes section depending upon the level of the user. I would recommend beginning TheWord users to study through the classes. (Although I recommend going through all the classes from the beginning, of course, nobody wants to do that. We never "read the instructions first", do we!) If you are a more advanced user or trying to search for a particular feature or "how to do something", then search the other areas.
General Introduction to theWord Program Videos
(Maximize this video by clicking on the four arrows icon in the very bottom right corner!)
An overview from theWord Software Programmer.
My name is David Cox, and I am this website's webmaster. I am separate from Costas Stergiou, which is the designer and programmer of theWord program. Below is a video from Costas about the program.
Warning!
Warning to the people behind the 3000+ hacking attempts trying to bust into my website from Puerto Rico, PLEASE STOP!