In this class, I am going to show you how to link to a place in another topic within the same module. For this exercise, we will be making endnotes/footnotes. Endnotes are all the footnotes in one place at the end of the module, usually in its own topic. Footnotes are at the bottom of each module topic, where the footnote appears in the text.
First of all, format all the text that you want. The recommended fonts and sizes are Tahoma 11 for text. I use Tahoma 9 for footnotes/endnotes.
In module creation, you want to maximize what you can produce and minimize the amount of time, effort, and energy in doing it. So I follow the following guidelines: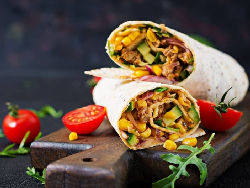 Buy me Burrito! Burritos are delicious. Meat, beans, sour cream, veggies, wrapped in a tortilla. We all enjoy burritos! But you know that you cannot have what is good without somebody paying for it. If you have enjoyed things on my website, please consider helping me maintain the expenses of this site. Consider at least a one time donation to this ministry of $10 or $20 dollars? Very infrequently (one person every 3-6 months) will somebody donate something. Usually that is all I receive from 34 websites! Yet, from my download statistics, I have about 96 gigabytes total being downloaded monthly from all of these websites. Be a blessing to me and donate any amount. It would be really great if you could gift me and my wife (who splits a burrito?) this money so that we could enjoy eating out at least once in a while. (I pay the expenses for these sites out of our living expenses.) God will richly bless you and repay you for your generosity. 1 Timothy 5:18 For the scripture saith, Thou shalt not muzzle the ox that treadeth out the corn. And, The labourer is worthy of his reward. If you received some value from my websites, consider at least a small donation. A big donation would really be nice, too, though.
Donate to David Cox Ministries.
In the endnotes, go through and number them with anchors, 1 through the end. In tw an anchor cannot be just a number, so you must put some kind of text to begin it. So I use the automatic suggested anchor reference which is bkm1 for the first anchor, bkm2 for the second and so on. They work fine and you just need to put the cursor at the beginning of the footnote and hit Control R.
Go through the module from the beginning to the end, and start selecting the text (footnote reference in the text), and hit control K (or click the globe in the menu bar).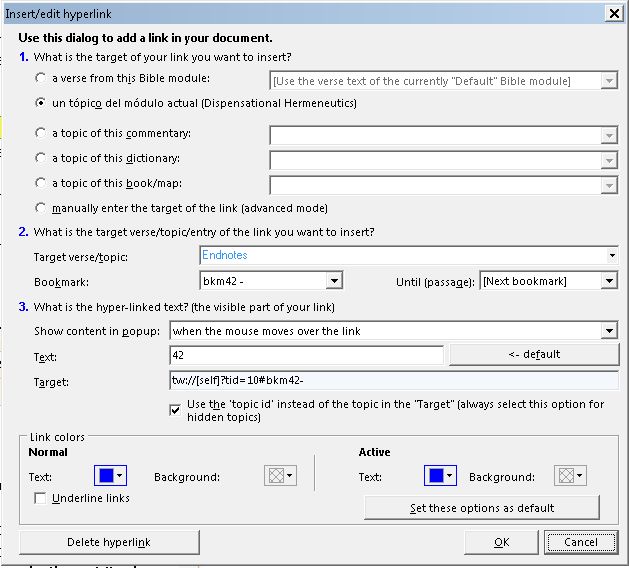 So in number 1 on this popup, you want to select a topic from the actual module (has module name after it)
Next, in number 2, select the topic that has what you want to footnote, and then select the actual bookmark., press enter.
If you mess up, just select the hyperlink text again and hit control K, and you will see this dialog box again.
Notice that after the bookmark, there is another field, "Until". This will automatically be set to the next bookmark, but if you import text that has anchors in it, those anchors will pick up. So make sure you don't have those anchors coming into play.
At times when you hyperlink, your text that you are working with might have the desired link overlapping, say a section link, and then individual links in that section. By moving the Until (or stop bookmark) further beyond the next bookmark, you can get exactly what you want.
Sample footnote text
Below is the sample footnote in the text.


Below is where it came from.

The actual sizes of the popup windows is totally dependent on the end user's windows at the time of mousing over the link.
More Articles from this Category