The Simple Bible Reader program is a program which is made for converting modules from one Bible format to another. I did not create nor do I maintain this program, it is developed by other people.
WARNING: Simple Bible Reader is not actively developed or supported. Recent releases are just to keep it compatible with modern operating systems.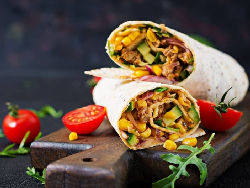 Buy me Burrito! Burritos are delicious. Meat, beans, sour cream, veggies, wrapped in a tortilla. We all enjoy burritos! But you know that you cannot have what is good without somebody paying for it. If you have enjoyed things on my website, please consider helping me maintain the expenses of this site. Consider at least a one time donation to this ministry of $10 or $20 dollars? Very infrequently (one person every 3-6 months) will somebody donate something. Usually that is all I receive from 34 websites! Yet, from my download statistics, I have about 96 gigabytes total being downloaded monthly from all of these websites. Be a blessing to me and donate any amount. It would be really great if you could gift me and my wife (who splits a burrito?) this money so that we could enjoy eating out at least once in a while. (I pay the expenses for these sites out of our living expenses.) God will richly bless you and repay you for your generosity. 1 Timothy 5:18 For the scripture saith, Thou shalt not muzzle the ox that treadeth out the corn. And, The labourer is worthy of his reward. If you received some value from my websites, consider at least a small donation. A big donation would really be nice, too, though.
Donate to David Cox Ministries.
This program is available from many different places on the Internet. Please check some of these websites to download it.
NOTICE: MySword has now made a new version of their program that will read directly theWord and eSword modules natively, without having to convert them. I believe it is available for a donation. But it is well worthy it if you need a Bible on your Android.
I have tried to use this program, and it does make a conversion, but I didn't have much luck as far as being able to read the new modules in the corresponding program. But none-the-less, I offer it here as a possibility when converting modules from one format to another.
More Articles from this Category