Finding Verses for a Sermon is a tip or help post on how to find Bible verses for a topic you are researching, probably for a sermon.
I have been a missionary since 1986. Before that I was in Bible college and a Bible seminary preparing for the work of a missionary. Since 1986 when I arrived at the field, I have preached basically every Sunday, if not in my church in Mexico then in English-speaking churches in the United States. So I have made a lot of sermons in my life. In the pre-computer days, Strong's concordance and a few other concordances were where a preacher would go to understand the Greek and Hebrew, and these other concordances would have verses on different subjects as well as on particular verses.
Today, with computers and the Internet, this has changed drastically. Firstly, having theWord on my computer is a great help in getting information. I can now search all the text of all my books (the electronic ones in theWord format). That is great.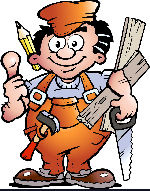 A carpenter making his own tools is an explanation of why I, Pastor-Missionary David Cox, write my own material. I like the idea of producing the material that we use in our ministry and also for evangelism.
Read the short article: A carpenter making his own tools.
Secondly, I use TSK, Treasure of Scriptural Knowledge. This work is basically a compilation of a bunch of Study Bibles that have verses references in the margins of those Bibles, and they were compiled into a single work. This is available as a paper and ink book as well as a PDF on the Internet, as well as a module for theWord.
Thirdly, the reason for this post, is that if you have an Internet browser, you can open your search engine and simply type "verse" and then the phrase you are looking for. For example, "verse everybody will give account to God". In the search results, you will see some without any verses, but my experience is usually within the first 4 or 5 results, one with have a Bible verse on that. In Spanish use, "versiculo" and the phrase.
There are entire websites dedicated to making topics and putting up Bible verses in each page on that topic. You can do a tremendous amount of "leg work" in preparing a sermon if you just do that. Remember, there are a lot of these websites like this out there, so keep scrolling down, and you will probably find more.
Finding Verses for a Sermon