theWord new file creation
Create a New Book Module – theWord new file creation
C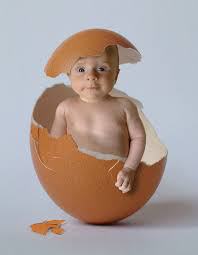 reate a New Book Module – theWord new file creation
By David Cox
Class Objective: In this class we will simply create a new Book Module.


Baxter Directions for a Peaceful Death is an article of 15 points on a Christian approaching his death and what he should be thinking about. This theme is good for the sick, but everybody should also meditate on these things. (Baxter is reformed).
theWord new file creation. In this tutorial class we look at how you create a new module within the theWord Bible software program. For clarification, you simply cannot create a new Bible from within the program itself. It is not that difficult to create a new Bible from any Word Processing editor, except for the point that each paragraph is a new verse, which that part is a little difficult. There are templates for the creation of new modules, and even a Bible template that will have the verse reference at the beginning of each verse, but then removing those tags would be a problem also in the end.
Uses for this class: I have two purposes (at the moment at least) for this class:
(1) Making a new book module for you to enter your sermons, Sunday School classes, and Bible research and study notes.
(2) Copying and pasting somebody else's material (either public domain stuff or with the owner's permission) into a module.
I will not go into the copyright issues here, so I assume you are doing this legally.
File-> New User Module
First of all, open a BookView Module (See Identifying the Panes) (F12). Now click in the main menu on the first top line of the program on the option File, and the first option in the popup that is under that, "New user module…"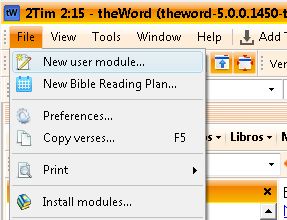 This will open a new module for you to use in that BookView window.
Note that when you do this, you will have an option to choose which module type to create.
At this screen though, you MUST CHOOSE "New Bible Reading Plan" if you want that type of module. The other module types will be offered in the following screen, but you must make that choice if that is the type of module you want.
Note that Verse Lists are not created here. See Bible Verse List Class.
Choosing the type of Module you are creating.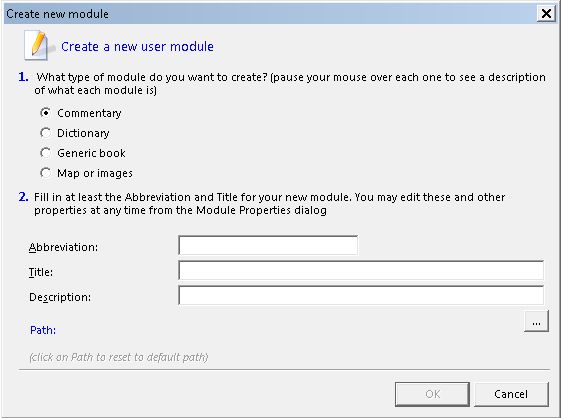 Here you have the different types of normal user modules, and you click the radio box options for which one you want.
Commentary module type
This type is every verse and chapter and book of the Bible is available as an entry in the module, but every entry MUST BE assigned to one of these entries. No free title entries.
In other words, this is a commentary on all the verses of the Bible. Additionally, you have a commentary note on the chapter (for each chapter of each book) and for the book as a whole. You can put a lot of miscellaneous information about things in these places and link back to it within the verse commentary notes. theWord uses hyperlinks, both to outside material on the Internet as well as to other modules and within a module itself. This makes it excellent for putting Appendices in these book and chapter notes and even in a totally separate module.
The advantage of this module type is that you link it to a Bible (any Bible installed in your setup of theWord), and when you open a window to a commentary module the software will automatically move the place in the commentary to whatever verse you are currently  looking at in the Bible (this feature can be turned off if desired).
Disadvantage: This module type has its topics constrained to only those outlined above, Bible verses, and one extra entry for each Bible Book, and chapter. You can add as much material in these entries as you like, including graphics, but you cannot make subtopics nor other entries of any kind.
Dictionary module type
Dictionaries are usually a single word or short phrase in the topic title, and then a definition. A dictionary work can be placed into regular "generic Book" type module as well, but the advantage of using this module type is that theWord has a function whereby you can activate the Bible window to lookup a definition for any word you hover the cursor over in the Bible window. You don't click or press anything, and a popup will appear with the definition from your preset dictionary module. This is fantastic, especially when working on some specialized studies.
In general, dictionary modules are usually Bible words in the topic title and their definitions in the topic text. But these are also used for example all the Popes through history, which is another module.
Disadvantages: With its defined purpose, there is no reason for a dictionary entry (normally very short), to have subdivisions, so this module type will only allow one top level entry with no subentries.
Generic Book
This is the workhorse form module for most modules in theWord. It can have multiple subentries. Note that the newest versions of theWord can have "virtual topics" whereby there is a topic entry in the
Note that the newest versions of theWord can have "virtual topics" whereby there is a topic entry in the left hand topics window, but these only link to anchors within a mother topic that they are under. This allows page divisions (with html anchors) to appear in the topics window, that link to an anchor in the mother topic entry. Also note that gbk module types can also be made to show up as commentary entries when doing a commentary search. More about these two in a later post.
Map or Images
Note that in the evolution of this Bible software and other Bible programs, "in the early days…" they were using software that didn't allow any graphic files in them. As such, there was a way even way back then to insert a graphic, but basically one graphic per topic. But that was cumbersome and nothing like the Internet, which in the end analysis, all Bible software has to be paired with similar websites on the Internet and see which gives better service. So eventually, the Bible software programs out there evolved so that images can be placed anywhere within the topic itself. So this module type is usually not used now, and is just a legacy type, for modules made "way back then".
Video Tutorial by Paul Chapman
See more Module Creation Posts