Search across theWord Bible Versions
Class Objective: search across theWord Bible Versions. In this class, we want to do studies ACROSS BIBLE VERSIONS. The idea here is to see how different Bible versions treat a certain word or concept in Scripture.
REQUIREMENTS: You need to have dominated the basics of doing a Bible search before you do this class. (See How to search the Bible).
This is really very simple (the hard part is coming by the Bible version you want, which is where my other site, www.twmodules.com comes in). We will do a simple normal Bible search, but we want to get a comparison of how a particular word appears or doesn't appear across a variety of Bible versions. The word I chose for this exercise is "atonement".
Here I will repeat my instructions from How to search the Bible for the use of the Bible versions explanation.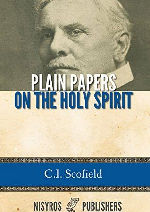 Scofield Plain Papers on the Holy Spirit is a work of 5 chapters by the editor of the Scofield Bible, C.I. Scofield. He was a great biblical scholar. I am presenting this work in various formats.
PDF: Scofield Plain Papers on the Holy Spirit
theWord: Scofield Plain Papers on the Holy Spirit
eSword: Scofield Plain Papers on the Holy Spirit
MySword: Scofield Plain Papers on the Holy Spirit

Selecting which Bible Version to Search
Well, we missed one important basic thing before we end this class. How do you decide which Bible text (version) you want to search on? There is another icon to the left of where we typed in the search word or phrase, and it is just an arrow.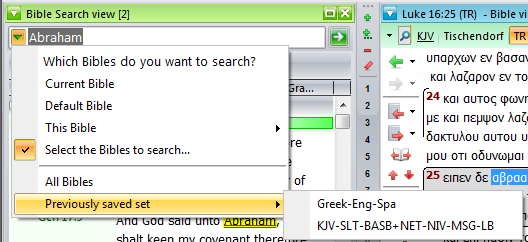 This little green down arrow (to the left of "Abraham" in the above image), will allow you to select your search Bible set. Yes! TheWord searches ACROSS VARIOUS BIBLES if you so want it to do so.
Notice that the settings allow you to specifically select a single Bible version, or you can make a "Bible texts" set to search (See Compare Bible Versions), or all Bibles, the default Bible, or the Current Bible. This program is simply just wonderful. Extremely powerful, feature rich, and it has so many bells and whistles one doesn't know where to start.
Make a Bible Texts Set
We start off in the BibleView window, clicking on the "Compare" icon (the next to the last icon after all the Bible abbreviations. There click on Select Bible Texts for compare view. You should see this.
Bible Compare texts "Save Set" option. Click on a number of English Bible texts, and in my setup, I am using the KJV, NASB, NET, NIV, LB, MSG (the King Jams Version, the New American Standard Bible, the NET Bible, the New International Version, the Living Bible, and the Message Bible. Here I click on "Sets" and save this group as a Bible Texts Set.
Searching different Bible Versions in one single pass.
Now comes the good part, in the Bible Search window, select the triangle before the search word. Select your presaved (above step) Bible texts set.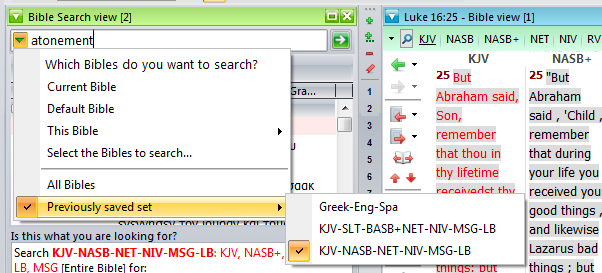 .Now press search (Green Arrow after the phrase searched for).
Examining the results of a multi-version Bible phrase Search

Simply put, you need this sofware and ability in your Bible study tool arsenal. There are great differences in the way different Bibles handle different Greek and Hebrew words. The really serious Bible study won't let a tool this advanced pass by without doing some serious thought about it.
This is another fantastic feature of TheWord that Logos, Bibleworks, e-Sword, et al, don't have a clue about.
More from Bible Searches