TheWord Tutorial » 02 Basic, Bible Window, Keyboard Short-Cut Keys, Problem Resolution, Tips & Tricks » How do I show the BibleView Window Options Icons (at left)
Note:
 You may not see the left hand menu Icons in your BibleView. If this is the case, then press Ctrl+T to toggle it on/off or hide/show. Note that YOU MUST FIRST CLICK IN THE BIBLEVIEW WINDOW TO MAKE IT ACTIVE or this won't work.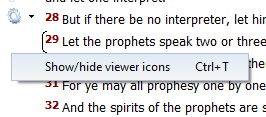 See the image below (icons on left ) for an example of a BibleView Window with this icon column.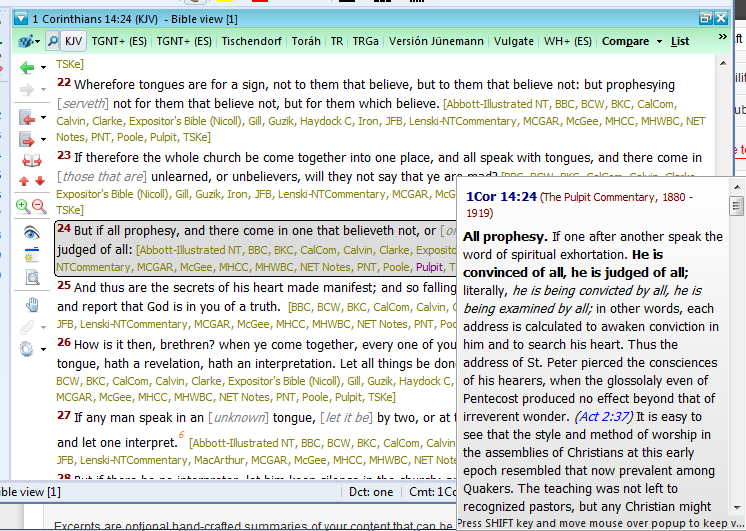 Revised English Bible with Apocrypha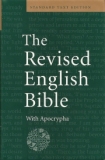 DESCRIPTION The Revised English Bible is a revision of the New English Bible (NEB). Like the NEB, the REB is a British translation that uses British idioms, spelling, and phraseology. The revision of the NEB that produced the REB was sponsored by all the main British churches. It was designed for public reading as well as for private study, and makes use of gender-inclusive language where the original texts allow. This electronic edition is based on Cambridge University Press's 1996 edition of the REB, and displays Bible verses and paragraphs in the same manner as that printed edition. Due to theWord's flexibility, the text may also be displayed in a verse by verse fashion. The Apocrypha is presented in a separate section, similar to the printed edition's presentation.

Filed under: 02 Basic, Bible Window, Keyboard Short-Cut Keys, Problem Resolution, Tips & Tricks