TheWord Tutorial » 02 Basic, Bible Window, Keyboard Short-Cut Keys, Problem Resolution, Tips & Tricks » How do I show the BibleView Window Options Icons (at left)
Note:
 You may not see the left hand menu Icons in your BibleView. If this is the case, then press Ctrl+T to toggle it on/off or hide/show. Note that YOU MUST FIRST CLICK IN THE BIBLEVIEW WINDOW TO MAKE IT ACTIVE or this won't work.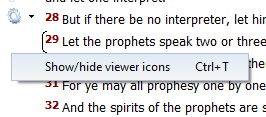 See the image below (icons on left ) for an example of a BibleView Window with this icon column.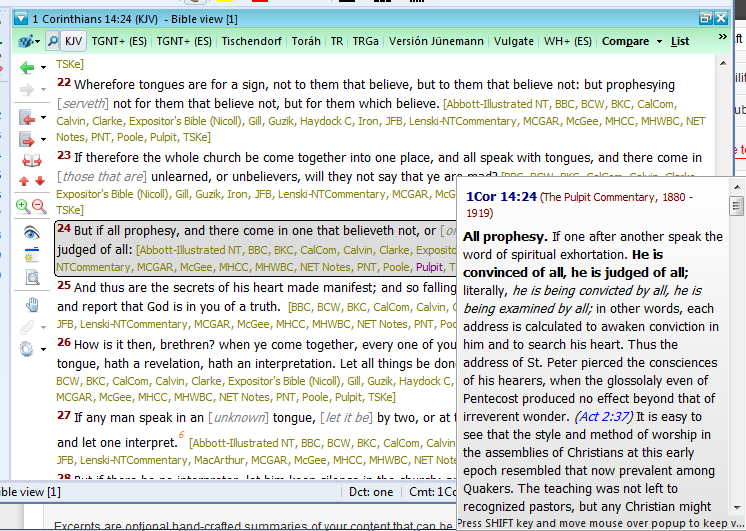 The New Living Translation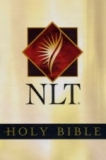 DESCRIPTION The Holy Bible, New Living Translation provides a wonderful balance of readability and authority. It is easy to understand, poetically beautiful, powerful, and emotive. At the same time, due to the careful work of ninety leading Bible scholars, it is accurate to the original Greek and Hebrew text. The New Living Translation makes the Bible accessible, useful, and enjoyable for every situation. The easy-to-read, clear text is perfect for comparative study of difficult passages.

Filed under: 02 Basic, Bible Window, Keyboard Short-Cut Keys, Problem Resolution, Tips & Tricks