TheWord Tutorial » 02 Basic, Bible Window, Keyboard Short-Cut Keys, Problem Resolution, Tips & Tricks » How do I show the BibleView Window Options Icons (at left)
Note:
 You may not see the left hand menu Icons in your BibleView. If this is the case, then press Ctrl+T to toggle it on/off or hide/show. Note that YOU MUST FIRST CLICK IN THE BIBLEVIEW WINDOW TO MAKE IT ACTIVE or this won't work.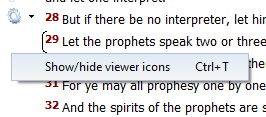 See the image below (icons on left ) for an example of a BibleView Window with this icon column.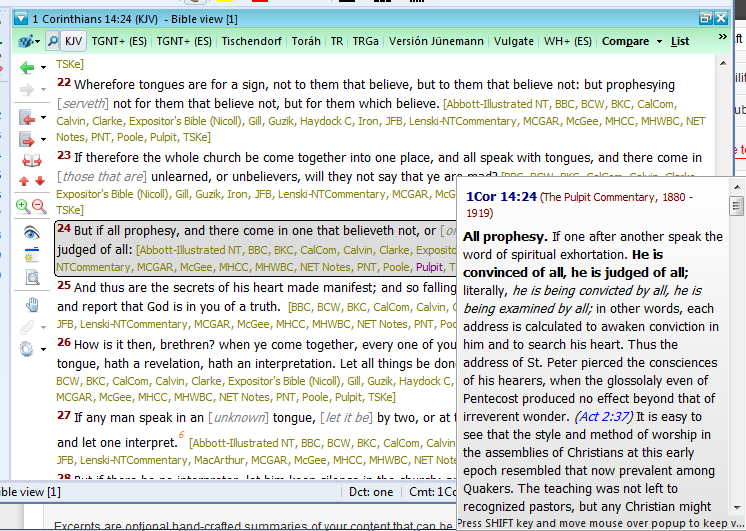 New American Standard Bible 1977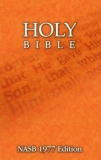 DESCRIPTION Includes more than 17,000 translator's notes and 93,000 cross references- Since its completion in 1971, the New American Standard Bible has been widely embraced as "the most literally accurate English translation" from the original languages. Millions of people, students, scholars, pastors, missionaries, and laypersons alike, trust the NASB, learning from it and applying it to the challenges of their daily lives. Discover what the original text says, word for word.
This is the original 1977 edition of the NASB. It includes italics for words which are not in the original, poetry styling and small caps, chapter headings, numerous translator's notes (more than 17,000) and cross-references (more than 93,000).

Filed under: 02 Basic, Bible Window, Keyboard Short-Cut Keys, Problem Resolution, Tips & Tricks