Class Objective: To learn how to convert other Bible Programs modules into theWord.
For this class, you will need to first download the theWord converter tool found here.
http://www.theword.net/index.php?article.tools&l=english
The formats that this utility imports are:

.
Please help us keep this website up. We work hard to be a blessing to you. Donate to us. Even a $5 or $10 donation is greatly appreciated. All donations will go to pay hosting and domain fees.
https://www.paypal.com/paypalme/davidcoxmex is the link to get to PayPal.
You can use your PayPal account if you have one, or you can donate using any normal debit or credit card, pay through PayPal and chose just Debit or Credit Card.

• RTF files from your local disk (to create a commentary or book)
• e-Sword modules (only non-password protected modules)
• Zefania XML modules
• Unbound Bible modules
First of all, notice that besides importing or converting modules or files from other formats into theWord format, there are other features that this importer does.
Run the program, and you will see this screen. (Tab1)
Tab1: Disk Files
This importer tool will import with RTF files to make a module. For this tab, you will need to indicate the information about, mostly the module title, and where the files are. Note that this feature is most useful when in some other program you can export the files chapters in the format of RTF files.
TAB2 Import from e-Sword modules
The restrictions of importing e-Sword modules are the following:
1) you cannot import any version 10 REFX files.
2) you cannot import any version 9-10 Bibles (bblx) files.
3) you cannot import any locked e-Sword modules.
---


---
Most probably any "read-only" files will not be imported either. Any corrupted e-Sword modules will of course not be read.
You should see this when you click on the tab.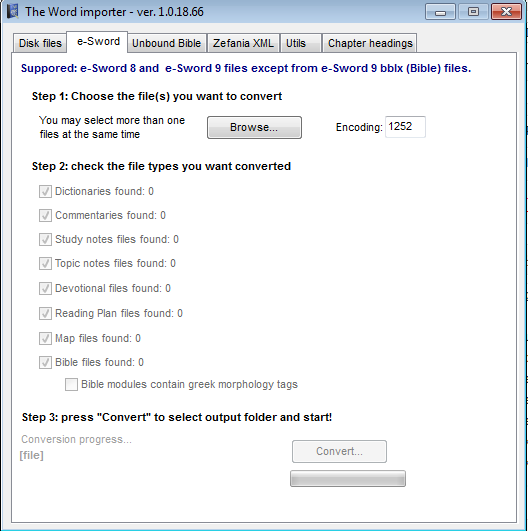 The way this works is that you pick a folder on your hard disk, and the utility will read the files it finds there, and the numbers (0) above will be changed to reflect the number of modules of that type found. You can selectively exclude groups of modules. You then click "Convert" and your files will be converted.
TAB3 and TAB4 Import Bibles from Unbound Bible and Zephania.
These two websites have public domain Bibles, and if you find a Bible you like there, you can download the Bible to your hard drive and import it into theWord format. Zefania or unbound Bible and choose a Bible and download it.
From there choose a tab corresponding with the site where you downloaded the Bible, and select the file and convert the Bible.
TAB5 Other Utilities
This tab has various utilities which you can run on a theWord module to do various things to it.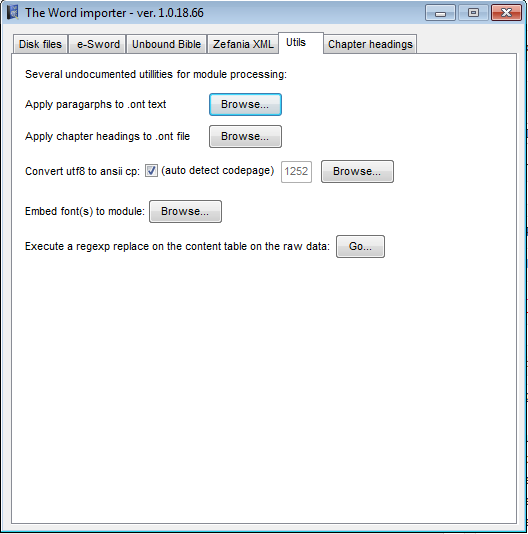 Tab 6 Import Chapter Headings into a Bible
With this utility, you can import chapter headings into a theWord Bible.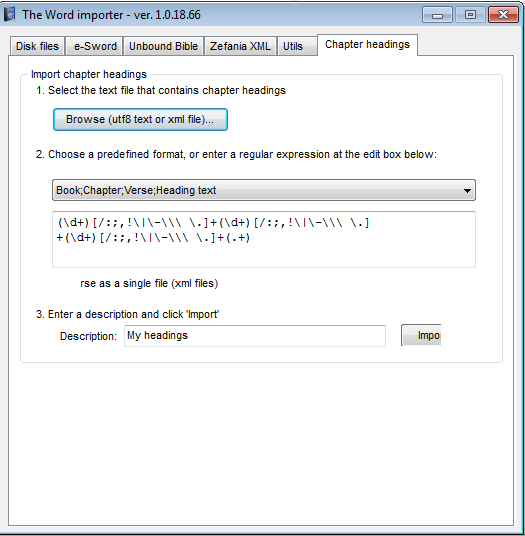 Subscribe to our email list to receive emails every time we post another post.