KJV Using Tense-Voice-Mood
Download this file: KJV+TVM
Down below the download link, there is another link to TVM dictionary. You will need that also.
Within the TW search functions, you can search on a particular lemma (vocabulary word) as well as how it is used within the verse. This is basically Greek and Hebrew Geek stuff, but if you understand Greek and Hebrew, then it is a powerful tool for research and study.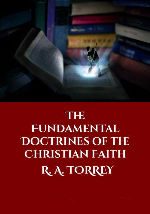 Torrey Fundamental Doctrines of the Christian Faith is a set of 15 chapters on various doctrinal themes in the Bible. Some of these chapters are...
1. Inspiration, or to what extent is the Bible Inspired of God?
2. The Christian conception of God...
4. The Deity of Jesus Christ
5. Jesus Christ, a Real Man
6. The Personality of the Holy Spirit
7. The Deity of the Holy Spirit and the Distinction between the Father, Son and Holy Spirit
8. The Atonement...
9. The Distinctive Doctrine of Protestantism: Justification by Faith
10. The New Birth
11. Sanctification
12. The Resurrection of the Body of Jesus and of our Bodies
13. The Devil
14. Is there a Literal Hell?
15. Is Future Punishment Everlasting?
Published in 1918. Downloads:
PDF: Torrey Fundamental Doctrines
theWord: Torrey Fundamental Doctrines
MySword: Torrey Fundamental Doctrines
eSword: Torrey Fundamental Doctrines
Probably the best thing I can do at this point is to just direct you to the help screen within TW about this feature (see below).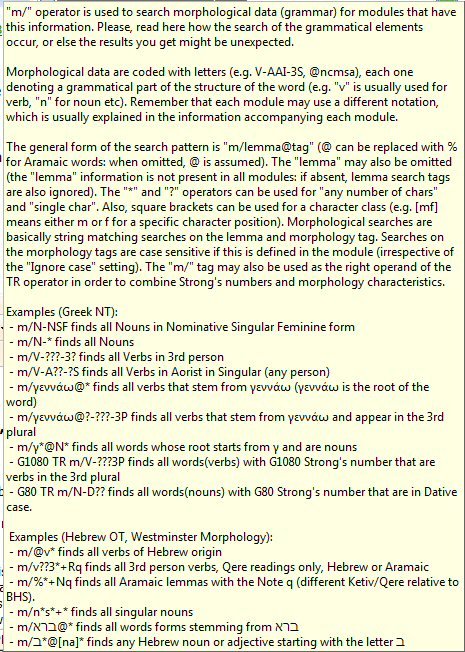 More Articles from this Category Geeks Greek
More Articles from this Category Geeks Hebrew
KJV Using Tense-Voice-Mood