Class Objective: In this class we will show you how to "journey through the Bible" or theWord History Feature. The idea here is how to use TheWord such that you can easily get around in a Bible jumping from place to place.
Open a Bibleview window if it is not yet open (F11).
Overview of theWord History Feature
The first thing here is understand how to use the program to get what you want. In this tutorial we will assume that you are using the Bible search function or you have a list of verses (say in a book) that you are using to visit and read.
Please review the class on how to select different versions of the Bible, Bible Version Selector Bar.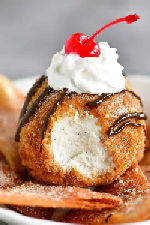 Have you ever eaten Fried Ice Cream! Donate! It is delicious, like apple pie with vanilla ice cream on top. But you know that you cannot have what is good without somebody paying for it. If you have enjoyed things on my website, please consider helping me out on the expenses and keeping it on the Internet. Can you consider at least a one time donation to this ministry of $10 or $20 dollars? I have a monthly total of about 96 gigabytes total being downloaded monthly from all of my websites. Be a blessing to me and donate any amount. It would be really great if you could gift me and my wife (she wants oa fried ice cream too) this money so that we could enjoy eating out at least once in a while. (I pay the expenses for these sites out of our living expenses.) God will richly bless you and repay you for your generosity. 1 Timothy 5:18 For the scripture saith, Thou shalt not muzzle the ox that treadeth out the corn. And, The labourer is worthy of his reward. If you received some value from my websites, consider at least a small donation. A big donation would really be nice, too, though.
---->>>>Donate to David Cox Ministries.<<<<----
They deep freeze the ice cream ball, and coat it with batter only a few seconds before they deep fry it, and then only fry it for a few seconds.
How to get to a particular verse in the Bible.
There are several different ways to use this theWord History Feature, and which you use is up to you. First of all, you can open a "help window" which will have the entire Bible in tree format, and you click on the Bible Tree icon on the top menu bar (this is three circles, white, green, and red, with lines between them like a tree).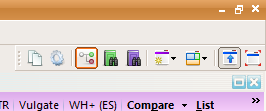 This will bring up the Bible Tree window in the sidebar.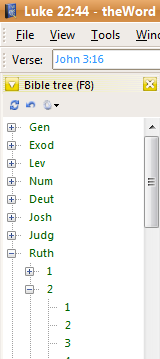 You can open a book by clicking on it or click on it again and close it.
The next way of getting a verse to appear in a Bible window is to simply type in the verse, John 3:16, in the verse entry box. This box is on the menu lines.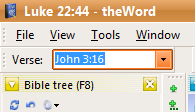 Likewise you can click on the down arrow of this box, and by using the mouse, get to a particular verse.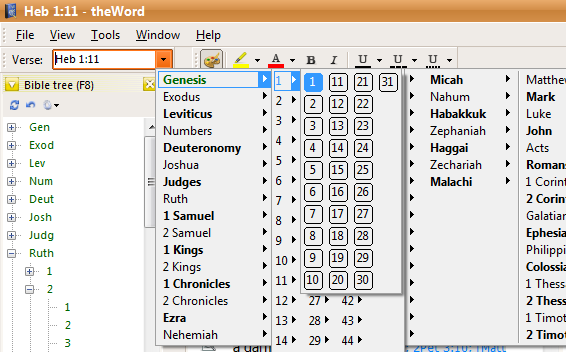 At this point, I should note, most beginning users will want the F8, Bible Tree function, and with time, it seems most users gravitate from that to typing the verse into the box, and finally, when fully "lazy", they use the mouse. I don't know why that is so, but just an observation.
Once you can manually get through the Bible, now you need to note that in general you can just click on any visual verse reference in the BibleView or BookView windows, and go there. Mousing over verses will allow them to pop up.
As a tip, when I find a page on the Internet with say 200 verses that I want to lookup, it is in general much easier to simply copy the entire text into the Windows clipboard (select and control+C), and then make a new module in theWord (I have a module I made called "delete" which is just junk stuff, like this. I never save anything in it, and anything saved in it can just be deleted without fear of losing something important.). Now paste the copied text into this work module, and Control+D to tooltip the references. Now pass the mouse over the verses and see them quickly. Click on them to open the verse reference in the BibleView window.
How to Regress through the Woods: theWord History Feature
theWord History Feature. Suppose you jump from verse to verse, and after having gone through 20-30 verses this way, you remember one of the first verses which was the best one, so how do you find it again?
Verse History Icons

These icons allow you to retrack your steps as you navigate through many verses in the Bible through theWord History Feature. This verse History is saved from this present theWord session only, but it allows you to go backwards and then forwards through the verse history. If you click the small black triangle to the right of each icon, you will see a complete list of the verses you visited in this session. Note that the left arrow is to go back, and the right arrow is to go forward in the list. When you first start TW, these icons will be grayed out, and as you make a path through the Bible visiting different verses the left arrow will become active. If you use the left arrow to go back to visit a previously visited verse, then the right arrow will become active. Also note that the particular Bible version that you used when visiting a verse is also saved.
How to Leave a Breadcrumb Trail (Set Bookmarks)
See post on using Bookmarks.
How to Gather Selected Verses into a List
In this post, Bible Verse List Feature, I will guide you through how to gather selected verses you may want into a list for further use.
See also this YouTube Video related to this class