Eliminating theWord Bible text brackets
Eliminating theWord Bible text brackets. Tip: How do you get rid of the square brackets in the Bible texts? (Also when copying and pasting?)
Eph 1:2 Grace [be] to you, and peace, from God our Father, and [from] the Lord Jesus Christ.
---


---
As you see in this example, these words are added words by the translators. Depending on your view of these things and what version of the Bible you are using, this can be distracting. The more modern version play rough with the original text and they, in general, don't mind changing the exact words to something similar, so this is not even appearing in those Bible versions. For the Bible versions that try to maintain a one-to-one correspondence, this can appear in these more biblically true texts.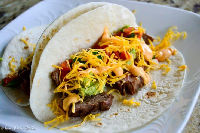 Buy me Steak Taco! You know, I work hard at my websites trying to provide you with good material that is sound doctrinally-speaking and of interest to God's people. It is hard work, but I don't mind doing it, and I feel called to the ministry, and God will bless me after all is said and done. But in the meantime, I do need to cover my expenses. I have a total of 34 websites (half English and half Spanish), and each one costs about $10 per month to keep up. That does not take into consideration my time and effort in writing content. Won't you consider at least a one time donation to this ministry of $10 or $20 dollars? It would be really great if you could gift me and my wife this money so that we could enjoy eating out at least once in a while. (I pay the expenses for these sites out of our living expenses.) God will richly bless you and repay you for your generosity. 1 Timothy 5:18 For the scripture saith, Thou shalt not muzzle the ox that treadeth out the corn. And, The labourer is worthy of his reward. If you received some value from my websites, consider at lest a small donation. A big donation would really be nice, too though.
Donate to David Cox Ministries.
This is an option to click off.
Go to the Bible Options menu (CTRL+O or Tools-> Bible Options).
Select "Font Colors and Styles"
Then unclick "Render words added by a translator with square brackets".