Website Goal - It is the purpose of this website to present free theWord Bible Software modules in large zip files for easy downloading. We are here to serve you, the theWord community. Please consider making a small $5 or $10 donation (on the sidebar below) once a year to help us cover our website expenses. This website exists because of your help. Thanks!
TheWord Tutorial » General Information » Program Overview
Program Overview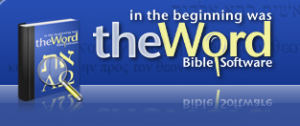 TheWord Bible Program is basically a powerful Bible study tool. The strengths of this program center around the intensive study of the Bible as well as other literature about the Bible, books, commentaries, dictionaries, etc. This program will allow you to view, search, and even create this literature.
(1) Formal Bible search – TW (TheWord) allows you to do powerful boolean and Regex searches on the text of any Bible. While other programs limit and greatly restrict your search abilities to AND OR or Exact phrase, TW allows you add other powerful boolean operators like NEAR (Word) NEAR (Verse).
(2) Bible Compare – TW like many other programs allow you to compare different Bibles.
(3) Bible Commentaries – TW is a very versatile program that allows you to configure it to many different forms of Bible study. Some of these are to place commentaries in a window beside the Bible where you can view a particular commentary (the number is only limited by your screen) and you can see the commentary in a window beside the Bible text, or even in the same Bible Window with the commentaries (any number) each below the verse that it corresponds with.
(4) Bible Dictionaries – TW has a Dictionary feature that will allow you to click on a word in the Bible Window and it will look up the word in all of its dictionaries (or regular books if the Bible word is in one of the chapter titles of these. But TW goes further putting all of these Dictionary entries into a single long bubble help over the word.
(5) Why do Bible programs not allow you to search across everything in your library? TW is designed to allow you to do a global search of every dictionary, commentary, or book in your library. This is separated from a Bible search (you don't want more results than necessary, right?) With TW you can do these extensive searches on just the topic titles (like the chapter titles in the books) or on just the contents of each chapter, or both.
(6) Book search subgroups – Let's face it, our problem today is not the lack of resources but information overload. You may have 15 books on a particular subject (like Eschatology) in a library of 300 books, but what good is it if you cannot find neither the book you want nor the passage you want when you need it? TW allows you to group your library into sub library groups, like eschatology, and just search those books. This is a powerful feature that many other Bible programs don't even dream of providing for their users. For each, you can place all your books on the Parables in one subgroup and just search that sub group. In two clicks you can search your entire library.
Review my website and see all the great features that TheWord has to offer. It is truly a powerful Bible study tool. I am dedicated to putting as many as I can of these public domain and copyrighted books (with their permission of course) into TheWord format for our mutual benefit. Each week I usually produce a few (up to 10 or 20 books) depending on what I am studying and preaching on in our church at the moment (these resources are for my preaching and writing ministry). Please check it daily to take advantage of what we freely offer.
Filed under: General Information