Dagg's Work, Manual of Theology is a full fledged systematic theology from a Reformed perspective. He was Baptist.
Manual of Theology
BY J. L. DAGG, D. D.
1858
____________________________________________________
The doctrine which is according to godliness -1 Tim 6:3
____________________________________________________
Transcribed by Dan Adkins, Gordon Woods, and Barry Sewell
Proofread by Cindy Kemp
Converted to HTML by Cameron Riviere
Converted to Topic file for E-Sword by David Cox ([email protected])
Footnotes with Bible references are reincorporated into text body -DCox.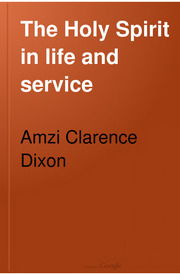 Dixon The Holy Spirit in life and service is a 19 chapter work on the Holy Spirit and various of His relationships and how He works. Chapters on the Personality and Deity of the Holy Spirit, His relationship with young people, the Bible, Bible study, the Evangelist, the Sunday School Teacher, the Pastor, the Christian worker, the purity of the Mind, missions, Christ, etc. PDF: Dixon The Holy Spirit in life and service
theWord: Dixon The Holy Spirit in life and service
MySword: Dixon The Holy Spirit in life and service
eSword: Dixon The Holy Spirit in life and service
Read Dagg Manual of Theology online
Table of Contents of Manual of Theology
00.01 Preface
00.02 Autobiography of Dagg
01 Book First–STUDY OF RELIGIOUS TRUTH
01.01 Ch 1–The Obligation
01.02 Ch 2–Sources of Knowledge
01.03 Appendix–Origin and Authority of the Bible
02 Book Second–DOCTRINE CONCERNING GOD
02.01 Introduction–Duty of Love to God
02.02 Ch 1 –Existence of God
02.03 Ch 2 –Attributes of God
Section 1. Unity
Section 2. Spirituality
Section 3. Immensity, Omnipresence
Section 4. Eternity and Immutability
Section 5. Omniscience
Section 6. Omnipotence
Section 7. Goodness
Section 8. Truth
Section 9. Justice
Section 10. Holiness
Section 11. Wisdom
02.04 Conclusion
03 Book Third–DOCTRINE CONCERNING THE WILL AND WORKS OF GOD
03.01 Introduction–Duty of Delighting in the Will and Works of God
03.02 Ch 1 –Will of God
03.03 Ch 2 –Creation
03.04 Ch 3 –Providence
Section 1. Preservation
Section 2. Government in general
Section 3. Natural Government
Section 4. Moral Government
Section 5. Free Agency
Section 6. Moral Necessity
Section 7. Designs of Providence
Section 8. Providence over Sin
03.05 Conclusion
04 Book Fourth–DOCTRINE CONCERNING THE FALL AND PRESENT STATE OF MAN
04.01 Introduction–Duty of Repentance
04.02 Ch 1 –Original State of Man
04.03 Ch 2 –The Fall
04.04 Ch 3 –Man's Present State
Section 1. Actual Sin
Section 2. Depravity
Section 3. Condemnation
Section 4. Helplessness
04.05 Conclusion
05.01 Introduction–Duty of Believing in Jesus Christ
05.01 Ch 1 –Person of Christ
Section 1. Humanity
Section 2. Divinity
Section 3. Union of Natures
05.02 Ch 2 –States of Christ
Section 1. Original Glory
Section 2. Humiliation
Section 3. Exaltation
05.04 Ch 3 –Offices of Christ
Section 1. Prophet
Section 2. Priest
Section 3. King
05.05 Conclusion
06 Book Sixth–DOCTRINE CONCERNING THE HOLY SPIRIT
06.01 Introduction–Duty of Living and Walking in the Holy Spirit
06.02 Ch 1 –Personality of the Holy Spirit
06.03 Ch 2 –The Divinity of the Holy Spirit
06.04 Ch 3 –Office of the Holy Spirit
06.05 Conclusion
07 Book Seventh–DOCTRINE CONCERNING DIVINE GRACE
07.01 Introduction–Duty of Gratitude for Divine Grace
07.02 Ch 1 –The Trinity
07.03 Ch 2 –Covenant of Grace
07.04 Ch 3 –Blessings of Grace
Section 1. Pardon
Section 2. Justification
Section 3. Adoption
Section 4. Regeneration
Section 5. Sanctification
Section 6. Final Perseverance
Section 7. Perfection
07.05 Ch 4 –Sovereignty of Grace
Section 1. Election
Section 2. Particular Redemption
Section 3. Effectual Calling
07.06 Conclusion
08 Book Eighth–DOCTRINE CONCERNING THE FUTURE WORLD
08.01 Introduction–Duty of Preparing for the Future World
08.02 Ch 1 –Immortality and Separate State of the Soul
08.03 Ch 2 –Resurrection
08.04 Ch 3 –The Last Judgment
08.05 Ch 4 –Heaven
08.06 Ch 5 –Hell
08.07 Conclusion
http://www.founders.org/library/dagg vol1/all.html
MANUAL OF THEOLOGY (Second Part)
A TREATISE ON CHURCH ORDER
BY J. L. DAGG, D. D.
That thou shouldst set in order the things that are wanting, and ordain elders in every city.–Titus i. 5.
The rest will I set in order when I come.-1 Cor. xi. 34.
____________________________________________________
Entered, according to Act of Congress in the year 1858, by THE SOUTHERN BAPTIST PUBLICATION SOCIETY, In the Clerk's Office of the District Court of South Carolina.
09.01 Preface
09.02 Introduction
09.03 Ch 1 –Baptism
09.04 Ch 2 –Local churches
09.05 Ch 3 –The Church Universal
09.06 Ch 4 –Infant Membership
09.07 Ch 5 –Communion
09.08 Ch 6 –Washing of feet
09.09 Ch 7 –Public Worship
09.10 Ch 8 –The Ministry
09.11 Ch 9 –Discipline
09.12 Ch 10 –Miscellaneous Topics
09.13 Conclusion–Duty of Baptists
09.14 Appendix
http://www.founders.org/library/dagg vol2/all.html
Download this work in theWord format