TheWord Tutorial » 02 Basic, Bible Window, Commentaries » Using Commentary Links
Class Objective:
To study through a portion of Scripture in the BibleView Window, using commentary links popups to lookup various commentaries on specific verses.
So what we are going to do in this class is to simply go over how to use the Commentary Links in the BibleView window. To use this feature of theWord, you will first need to open a BibleView window. Another requirement here, you will need to download some commentaries to use with this feature.
Go to my module site, www.twmodules.com to the bookshelf page (http://www.twmodules.com/module-lists/), and there I have a dozen list pages with commentaries to download.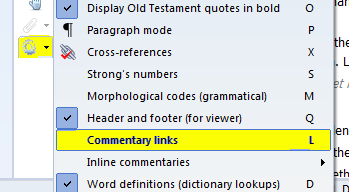 To quickly do this, in the left hand column of the BibleView Window (press F11 to open a BibleView window if one is not open), and then at the bottom of the left hand menu of icons, click on the wheel or cog (BibeView Window Options). Go down to Commentary Links, and click it.
A shortcut for this is to click in the BibleView window, and press "L" (no control, no shift, no alt keys, just "L"). This toggles the commentary links on and off.
Note: You may not see the left hand menu Icons in your BibleView. If this is the case, then press Ctrl+T to toggle it on/off or hide/show.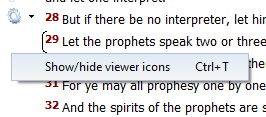 What you should be seeing now is your BibleView window with a bunch of links under each verse, something like this…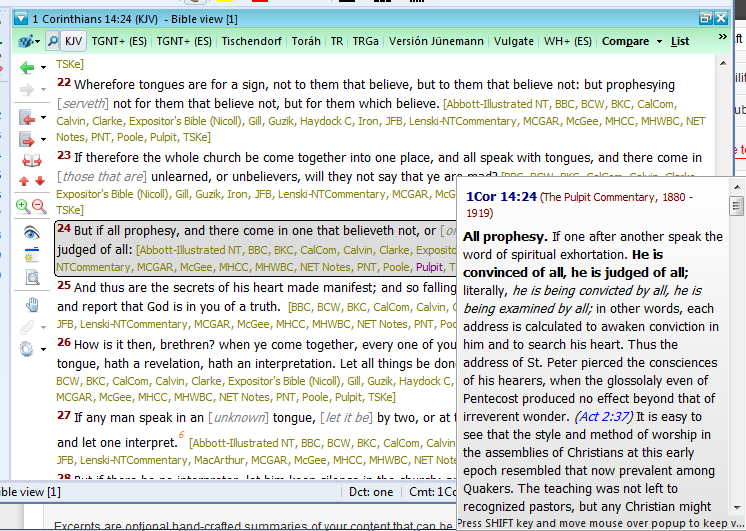 Again you will note that this doesn't work if you don't have commentaries installed. Moreover, it isn't worth much if you don't have GOOD COMMENTARIES installed, so go to my site and download some.
In the image above, you will see a passage of 1Corinthians 14 with the commentary links in yellow-grey. Passing the mouse over them will get the popup. If you have problems reading the entire contents of the popup, press shift and click in the popup window and now you can scroll it if it is more than what appears on screen.
Revised English Bible with Apocrypha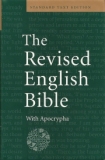 DESCRIPTION The Revised English Bible is a revision of the New English Bible (NEB). Like the NEB, the REB is a British translation that uses British idioms, spelling, and phraseology. The revision of the NEB that produced the REB was sponsored by all the main British churches. It was designed for public reading as well as for private study, and makes use of gender-inclusive language where the original texts allow. This electronic edition is based on Cambridge University Press's 1996 edition of the REB, and displays Bible verses and paragraphs in the same manner as that printed edition. Due to theWord's flexibility, the text may also be displayed in a verse by verse fashion. The Apocrypha is presented in a separate section, similar to the printed edition's presentation.
The Expository Notes of Dr. Thomas L. Constable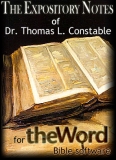 DESCRIPTION These Bible Study Notes are some of the most comprehensible that you may find anywhere to help you study God's word. These Bible Study Notes, written by Dr. Thomas L. Constable over a 25-year period, provide commentary on all 66 books of the Bible, and hold about 7,000 pages of material. Dr. Constable's Notes, also known as expository notes to Dr. Constable's seminary students, are intended to help you to better understand the Bible.
In addition to the verse-by-verse explanations of the entire Bible, extra resources include historical background, scope, purpose, theology, and outline information on the individual books. Thousands of footnote references are a helpful source for further, more in-depth study
YouTube Video of this function
This video is like 1 minute long, so watch it. It is all very simple. Have fun!

Filed under: 02 Basic, Bible Window, Commentaries