Website Goal - It is the purpose of this website to present free theWord Bible Software modules in large zip files for easy downloading. We are here to serve you, the theWord community. Please consider making a small $5 or $10 donation (on the sidebar below) once a year to help us cover our website expenses. This website exists because of your help. Thanks!
TheWord Tutorial » 03 Advanced, Panels-Layouts-Skins » theWord Layout Book Search Bible
theWord Layout Book Search Bible
theWord Layout Book Search Bible
By David Cox
In this layout, I am doing a book search on "Satan", with a Bible search on "Satan."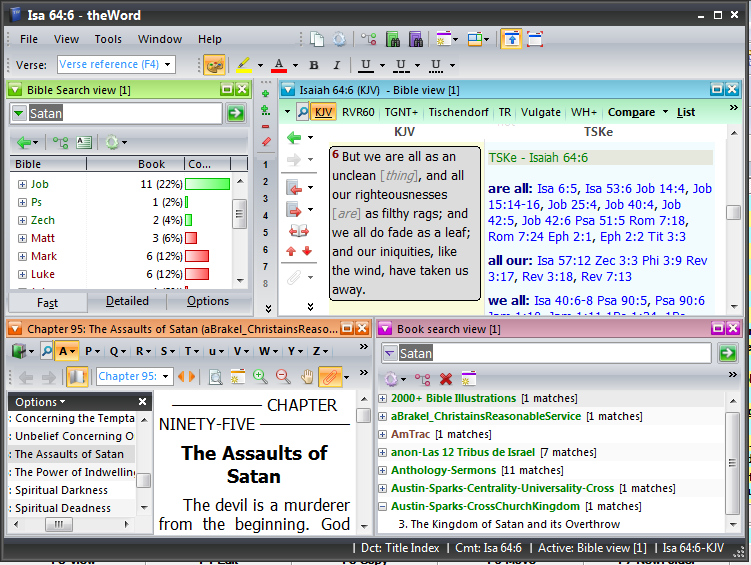 Note that this has a simple 4 panel layout. Once you open the four windows (F9, F10, F11, F12), then click on the colored triangles in each of the upper left hand corners, and dock each window to its position.
Our Tract Ministry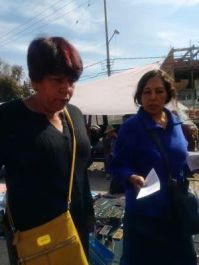 This
page
describes our tract ministry, including tract production (printing and folding). Our ministry is not that big yet, but we continue to grow. We have about 350 Spanish titles and 90 English titles and are adding translations into other languages. Please read this page and pray for this ministry.
Bible Search – Dock to Top Left Hand Column
Bible – Dock to Top Right Hand Column
Bookview – Dock to Bottom Left Hand Column
BookSearch – Dock to the bottom Right Hand Column.
To get the split Bible view,
Note that you will need your preferred Commentary already downloaded and installed in TheWord before doing this.
Download: Timothy Morton's Treasury of Scripture Knowledge Enhanced.
1. Click in the BibleView Window.
2. Ctrl+O to get to Bible Options.
3. Click on "Inline Commentaries". You should be seeing something like this…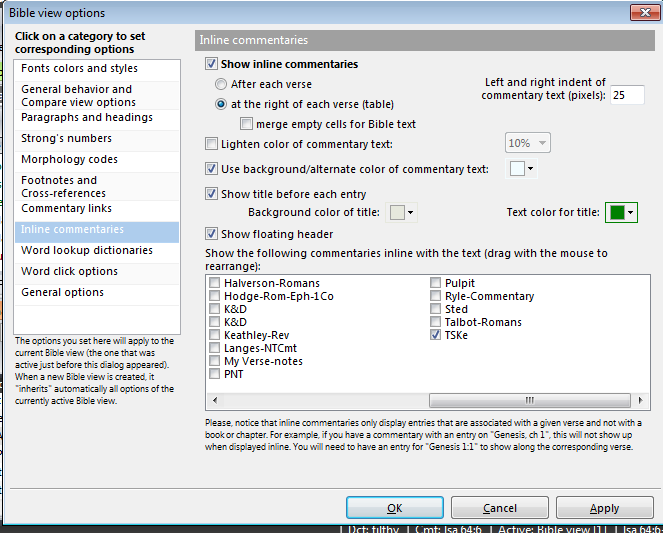 4. Select TSKe or your favorite Bible Commentary.
Please take a minute and review my Morton's Enhanced Treasury of Scripture Knowledge Module Recommendation Page.  On this page I have the download link, why and how to use it in Bible Study, and how to set it up in TheWord.
Filed under: 03 Advanced, Panels-Layouts-Skins